Rrypo: Get A Head
WARNING! This is currently a MANUSCRIPT EDITION. This module still has to visit its editors and achieve its final layout. If you are buying it now, you are supporting its author and artist and contributing to its production. The final edition will be updated to this title.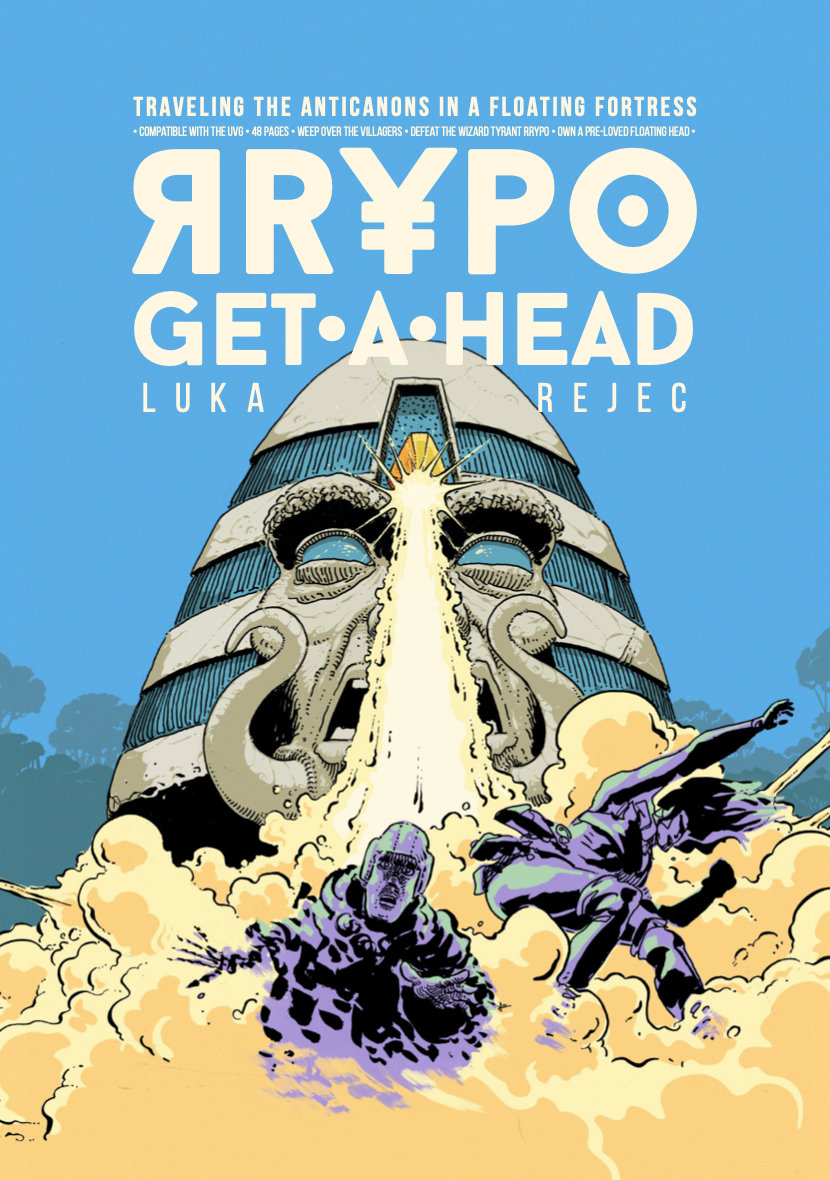 Get A Head is rules-loose science fantasy rpg module inspired by the fantastically ridiculous Boorman movie Zardoz. A trail of destruction and devastation leads to a head-shaped flying fortress protected by gun-wielding savages. Will they manage to capture it?

40 pages
compatible with the Ultraviolet Grasslands and Seacat
moral conundrums and vicious raiders
different approaches to getting inside the head
illustrated split-level map of the head
five strange NPCs
15-room breakdown of the head
guidelines for heroes operating the head
game changes and new goals if they take over the head
30 possible challenges encountered while flying the malfunctioning giant head
14 illustrations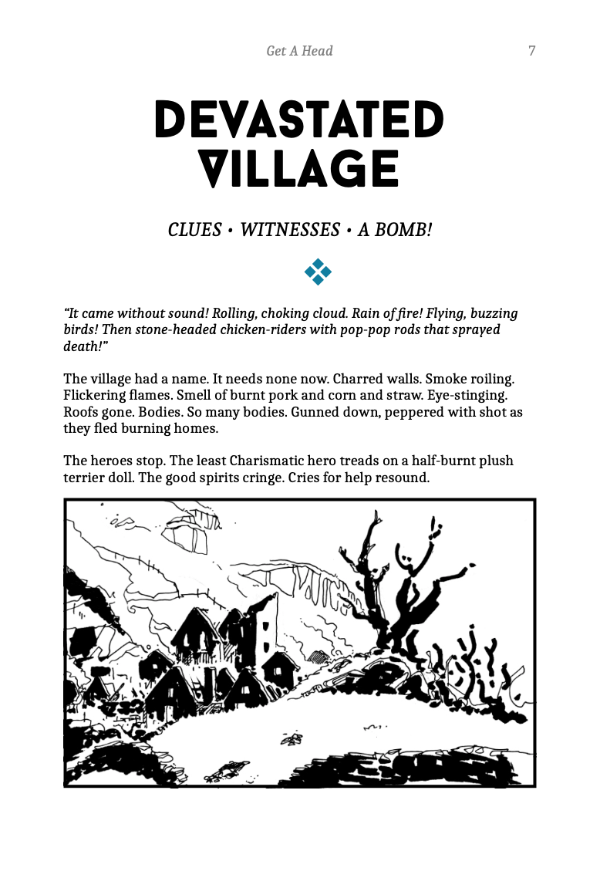 Be aware before you buy:
Descriptive writing: stat blocks are very minimalist, so it will take a little adaptation to fit to your table.
Interaction before combat: a group should be able to play through it almost entirely avoiding combat.
Old School Aesthetics: The module does not have balanced combat encounters. It prioritizes figuring out ways to avoid head-on combat. The GM should check the equipment of the savages and see if they want to adjust it for their own table. That said, a large party of 3rd–5th level heroes with a large supply of henchmen should be able to defeat the enemies.
Satire: the tone of the module veers between a little bit of horror and quite a lot of humor.
If you enjoyed this module, or would like to support new projects I am working on, join the Stratometaship. Current projects are the Ultraviolet Hero Book companion for the UVG and, of course, the upcoming big book, Red Sky Dead City. See you there!
Purchase
In order to download this adventure you must purchase it at or above the minimum price of $9 USD. You will get access to the following files:
Rrypo Get A Head UVG v1.1.pdf
5 MB
Comments
Log in with itch.io to leave a comment.
Smol Update: I recently got RRYPO edited, so this game will be getting an upgrade! And some new tables!